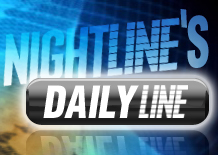 David Wright Reports ABCNightline: The breakfast wars are heating up and hyper-caffeinated these days, as New England-based Dunkin' Donuts gets ready to battle Seattle.
"Dunkin' beats Starbucks," DD president Will Kussell boasted to "Nightline." Dunkin' is now the consumer's number one choice both for coffee sold over the counter and coffee beans packaged in those little foil bags.
Dunkin' has just launched a new $100 million ad campaign aimed at luring more Starbucks customers over to them.
The economic slowdown has played to Dunkin's strengths. Fast food typically does well in recession, and at Dunkin', the emphasis is on fast: in and out in under 5 minutes, and usually under $5.
Dunkin' customers pride themselves on being low maintenance, regular Joes.  They tend to be the type of people who'd prefer not to speak Italian when ordering a cup of coffee.  Small, medium and large are just fine, thank you.
At Dunkin', a cup of coffee will set you back $1.39 – for a small.  Starbucks is considerably more expensive.
Business analysts say price is one reason why the recession has hit Starbucks so hard.
"In this environment, certainly it's tough to get people to spring for the $4 latte," said Timothy Calkins, a clinical professor of marketing at the Kellogg School of Business at Northwestern University.
The Seattle coffee giant has been forced to close hundreds of stores and lay off thousands of workers.  The stock price is about equal now to a venti mocha latte.
Dunkin', meanwhile, is growing.  Officials at the privately-held company say sales have grown consistently 5 percent per year.  Dunkin' opened at least 800 stores in 2008.
"This is a time period right now where people are looking for comfort," said Dunkin' executive chef Stan Frankenthaler.  "Familiar foods, nostalgic foods, comfortable foods, flavors that bring back good memories."
Frankenthaler took "Nightline" behind the scenes at Dunkin's top secret test kitchen.  Among the chef's latest creations are a breakfast sandwich that's sort of like an Egg McMuffin, but made with waffles and with the maple syrup baked right in.  According to Frankethaler, the New Yorker magazine called it "lowbrow brilliant," a review he's proud of.
"I love that," he said.  "That's perfect.  That's exactly what we want to be."
In recent years, Dunkin' has tended to emphasize the coffee more than the doughnuts.  The company already underwent significant belt tightening, as America tightened its belt during the 90s' obsession with low carbs and zero trans fats.
Now, though, the doughnut is back.
"Nightline" viewers are getting a sneak peek at a new doughnut due to hit stores tomorrow.  All we can tell you here is that the pink icing is so thick you can just picture how it'll cling to your arteries.
Dunkin's advice to the diet conscious?
"Well, we have Munchkins," Kussell said.
Company officials believe that, during the recession, people are more eager to count their pennies than their pounds.
Watch the 7 minute Video Segment